Volunteering at Hawkridge Bird of Prey Centre!
Are you passionate about Birds of Prey?
Would you like the opportunity to work with these magnificent birds?
Are you prepared for hard work?
There is more to being a volunteer than handling the birds.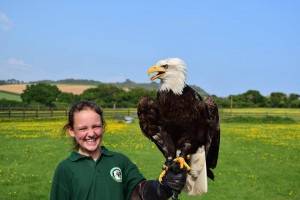 Aviaries and weathering's need to be cleaned on a daily basis,

Lawns mowed, gardens weeded, paths cleared of leaves/ debris, food prepared,
birds weighed, checked,
then there is the feeding of the birds, not the cleanest of jobs,
regular cleaning, replacing and fitting of all the birds equipment,
the list is endless –
still interested?
In order to operate the centre productively we need to work on a rota
so you would need to be available on a regular basis.
You must also be able to work as part of a team as well as on your own initiative and be of smart appearance.
first impressions really do count
Well If that lot hasn't put you off then you're on to a good start -come and talk to us.
We are looking for people who are prepared to make a commitment, who are hard working and reliable and prepared to get stuck in to all aspects of working at a bird of prey centre
Volunteers are very important to us so in return for your time and hard work we offer you the chance-
*to be part of a professional Bird of Prey Centre and a friendly team, who are happy to share their knowledge of these amazing birds with you.
*To work in one of the best working environments around, the great outdoors, with over 100 acres of beautiful deer park and farmland and bordering the Jurassic coast where else would you want to be?
*over time there will also be the chance for those showing commitment and enthusiasm to progress in to helping with displays, talks and courses and out side events
THE CENTRE GETS VERY BUSY
SO REGULAR, RELIABLE VOLUNTEERS ARE VERY IMPORTANT
If you feel you have what it takes give us a ring on  07843098727
or drop us an email [email protected]
and arrange an informal chat.