MEET THE TEAM
As well as the birds, there is also a team of hard-working staff that keep Hawkridge going all year round.
Richard and Sharon beech – owners of Hawkridge bird of prey centre.
how they got started! – following a long-term fascination with birds of prey which started long before Richard and Sharon got together (if that is possible), they were lucky to meet a local falconer (austringer) who became a good friend and mentor.  Paul introduced them to fen his female Harris and Barney and Deefer his two working dogs and they spent many days hunting with both bird and dog.
Eventually they got their own bird, a young barn owl which they hand reared and flew, and as Jess grew so did their enthusiasm and passion for the sport and so did their collection.
Richard spent many years providing bird control for the local airport and during that time Richard and Sharon also used their birds to educate and entertain.
schools, care homes and village fetes were all venues for their talks and displays under the name of Hawkridge birds of prey.
After outgrowing their garden, they decided to look for some land and were lucky to be approached by the staff at world of country life who were looking for someone to do displays. After a chat with the manager and a meeting with the owner it was agreed that they would provide displays for the park and Hawkridge bird of prey CENTRE was formed. They have grown considerably over the years from the first barn owl (which they do not recommend as a beginner's bird) to the stunning collection you see today. 30 birds, 16 different species of hawk, owl, falcon, eagle and vulture.
Although they have grown, they still maintain the values of the small family run business, with the day to day running of the business being carried out by Richard and Sharon they are regularly assisted by daughter Julie and a dedicated group of volunteers.
Richard and Sharon are very grateful to all of their volunteers for all the hard work and support they give them. they know without the dedicated team a lot of what they have achieved over the last few years would not have been possible, so THANK YOU ALL.
The Team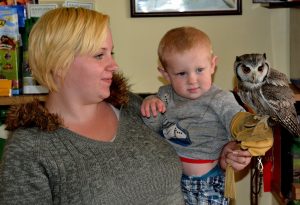 Julie has grown up around the birds and although she has a family of her own, she still helps out with the daily tasks, promotions and outside events as and when needed.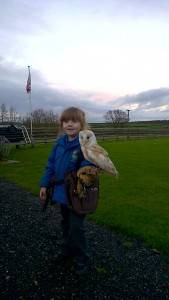 Granddaughter Kacey now 11 has been helping out with training and flying ever since she could walk.
she along with her brother Logan 9 enjoy helping with the routine tasks of cleaning and feeding up. even little Leo helps out.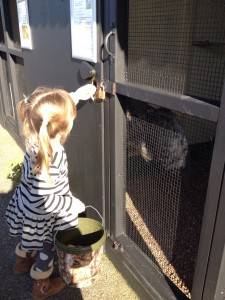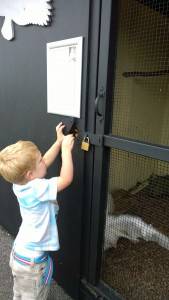 Gemma, having previous experience in a bird of prey centre, Gemma has been a godsend, she has fitted in well to a crazy environment and can been seen helping out with all aspects of centre life
The Daves
Simon
Hugh
Lily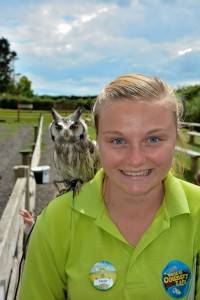 SAMMY – came to us in 2012 as part of her work experience programme from Bicton college.
at the end of her placement, she stayed on as a volunteer and helped out between uni, working and course work,
now with her own career Sammy still pops in when she can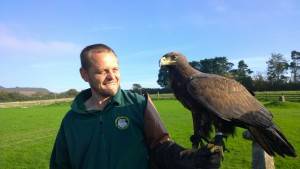 Darren started with us in June 2015 and has very quickly proven himself to be a reliable, hardworking and invaluable member of the team.
since getting his own bird Petra he has grown in confidence.
following in on our family theme Darren's daughter Neve can also be seen at the centre helping with general husbandry and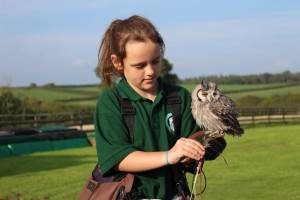 public displays.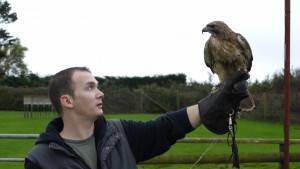 Tony again came to us as a customer way back in 2013, while staying at Devon cliffs.                                 after returning a number of times including completing his Lantra award, tony has returned as a volunteer, driving two hours from Dorset to help at the centre. Now that is dedication.                                               another keen photographer and computer literate.  he does come in very handy 😉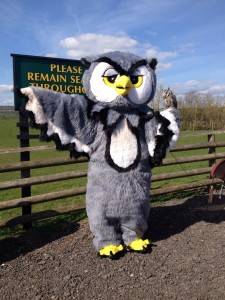 We must not forget Chalky our Mascot, who assists with promotions and entertainment as well as helping world of country life during ferret racing when he is free.