Offering both half and full day experiences,
we can provide something for everyone.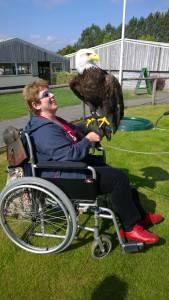 A Hawkridge experience is very much hands on and is tailored to those with a passion for birds of prey,
whether a life long ambition or potential career path.
Not only do you get to handle and learn about a wide variety of birds of prey,
you will also get to fly a selection of them in our arena.
Those on a full day experience will also get to take one of our hawks out of the deer park and
watch as it makes the most of the 100 + acres of parkland and countryside that we are very
privileged to be located within, before returning to your glove for food.
**************
refreshments are available throughout the day.
All our experience days are adaptable and can be tailored to meet your individual requirements.
whether for your self or a gift for a friend or loved one , you can be assured that this will be a
experience that wont be forgotten
 ALL EXPERIENCES ARE SOLD AS A GIFT VOUCHER AND ARE VALID FOR TWELVE MONTHS
half day falconry experience per person  £59 
half day falconry experience for 2 people  £106
*************************
1 day falconry experience per person  £99 
1 day falconry experience for 2 people  £178
PLEASE NOTE
VOUCHERS WILL BE EMAILED ONCE CONFIRMATION OF PAYMENT HAS BEEN RECEIVED