C

hilds Owl Experience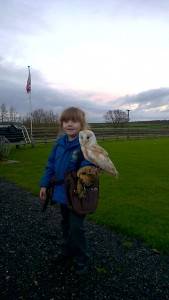 Aimed at the 7 -13 year olds
 this half day session has been designed for those smaller members of the family, to encourage them to learn about and enjoy our wild life.
your day will begin with an introduction to the variety of owls that we have at the centre,
you will learn how to safely pick up and carry these beautiful birds,
how we train them and how important a varied diet is to their health.
You will learn how important these birds are to our environment and how we can do our bit to help them.
during your time here you will get to experience first hand the thrill of flying these birds free
and watch as they return to your glove for food
we aim to provide an educational as well as enjoyable day, getting children involved young will hopefully save our sport and wild life for future generations
sorry but you will need to bring along a parent,
 some one has to take those all important photos.
for more information please feel free to contact us
childrens owl experience  per child (7 -13years) £50  
childrens owl experience  for 2 children (7 -13years) £90  
childrens owl experience  for 3 children (7 -13years) £135  
1 Additional spectator 
PLEASE NOTE
VOUCHERS WILL BE EMAILED ONCE CONFIRMATION OF PAYMENT HAS BEEN RECEIVED